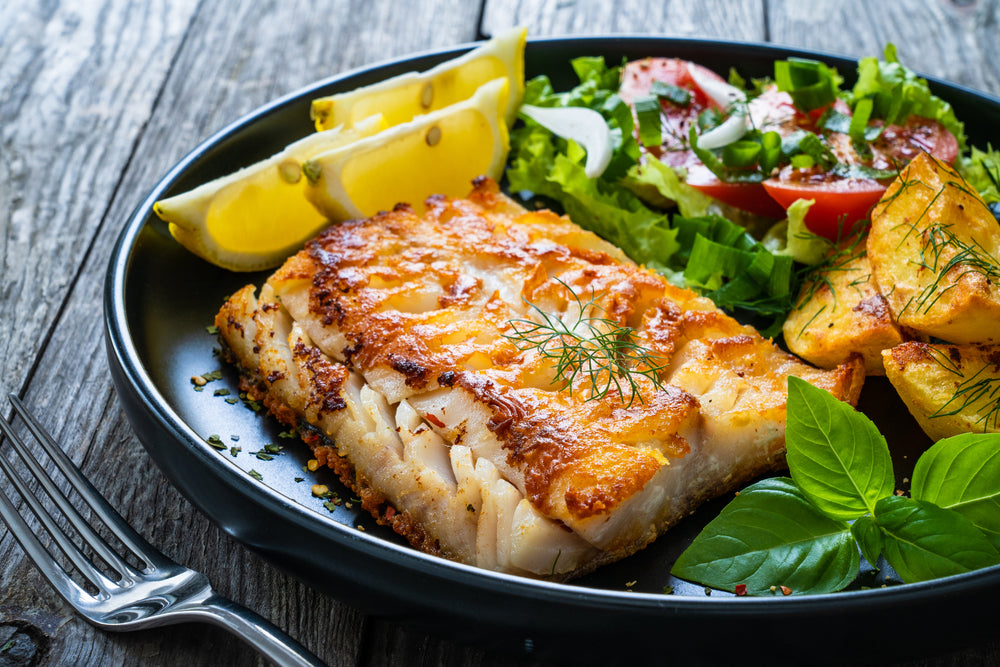 Pan Fried Cod and Saratoga Chips
Serves:  4 people
Prep Time: 10 minutes
Cook Time: 12 minutes, rest 10 minutes
Total Time: 30 minutes
INGREDIENTS:
4-6oz Filets of Cod
1 Egg
1/2 cup Buttermilk
2 TBSP Mustard Powder
2/3-cup panko crumbs
6 oz. Olive Oil
2 Heirloom Tomatos
1 Lemon
2 Large Yukon Gold Potato's
Salt Pepper
2 TBSP Capers
DIRECTIONS:
Beat Egg and Buttermilk in bowl
Place cod in bowl to soak for 5 minutes
Slice Potato (skin on) 1/8-inch thick using knife or mandolin
Toss Potato slices with 2 oz. Olive oil, salt pepper
Place Potato in single layer on sheet pan
Bake for 12 minutes at 400 degrees
Rub Tomatoes with lightly with oil, dust with salt and pepper
Oven Roast with Potatoes for 12 Minutes
Remove Cod from Milk bath
Mix Mustard powder and panko crumbs salt pepper
Roll Cod Filets in Panko crumbs
Sauté in pan Medium high in Oil for 3-4 minutes per side
Plate and toss capers across plate
EAT! LOVE! BE HAPPY!
---