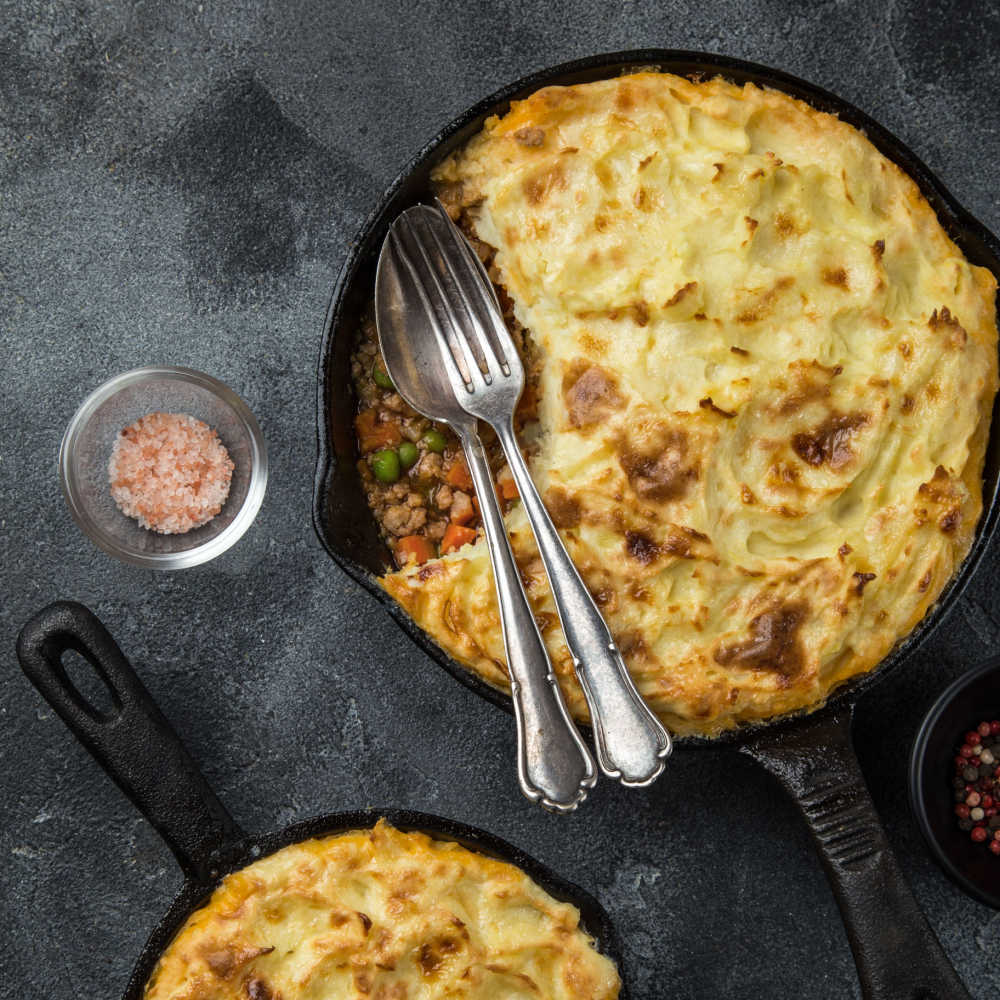 Chef Maeve's Shepherd's Pie
St. Patrick's Day is a time to celebrate Irish culture and traditions, and what better way to do that than by serving a delicious and comforting dish like Chef Maeve's Shepherd's Pie? This hearty and flavorful recipe is perfect for feeding a crowd, and it's sure to be a hit with everyone at your St. Patrick's Day celebration.
Not only is this recipe delicious, but it's also easy to make with simple ingredients that you likely already have on hand. Plus, it's a great way to use up leftover mashed potatoes or vegetables, making it a budget-friendly option for feeding a large group.
The combination of tender meat, savory vegetables, and creamy mashed potatoes makes this dish the ultimate comfort food, perfect for warming up on a chilly St. Patrick's Day evening. Whether you're hosting a large gathering or just looking for a cozy meal with your family, Chef Maeve's Shepherd's Pie is a dish you won't want to miss.
Shepherds Pie
Serves:  6 people
Prep Time: 20 minutes
Cook Time: 25 minutes
Total Time: 45 minutes
Cast iron 7-8 inch cast iron pan or 6 individual pie dishes
INGREDIENTS:
1 oz. butter
1 medium carrot sliced in half long side and chopped
2 celery ribs chopped
1 cup of English peas
4 oz. onion chopped
1/2 pint Guinness
1/2 cup beef stock
2  TBSP  minced mushrooms 
2 TBSP. parsley chopped
1/2 tsp. rosemary
 Salt and fresh ground pepper
1LB  ground lamb
3 oz. cheddar cheese (optional)
Potato Topping
6 potatoes 

4

 oz. green onions chopped both the bulb and the green
15. 4 oz. butter
1 cup of half and half
Salt and white pepper
DIRECTIONS:
Potato Topping
1. Peel and dice potatoes, Place in a pot of boiling 3 cups of milk
2. Add a pinch of salt, bring to the boil and boil for 15 minutes or until tender
3. Transfer potatoes to a bowl and mash using a ricer
4. Warm half and half, and along with a 1/2 of the potato milk, chopped onions and butter add to the potato mixture
5. Preheat oven to 400 degrees
Meat Mixture
6. In a heavy saucepan melt the butter, add onions, cover with a piece of wax paper to help onions sweat for a few minutes over a low heat. Gradually add the stock whisking all the time so as to keep smooth.  Add minced mushrooms, rosemary and salt.   Add remaining veg to the gravy mixture. Melt 1 oz. of butter in a heavy pan, add the minced lamb and cook over a hot flame, mixing constantly for 5 minutes, add in Guinness and cook on high till it reduces by 1/3.  Season with salt and pepper and parsley.
7.Pour the meat gravy mixture into a cast iron pan. Cover in sliced Cheddar, Place Mash Potato on top. Place in a 400-degree pre heated oven for 25 minutes. Serve piping hot
8. EAT! LOVE! BE HAPPY!
---