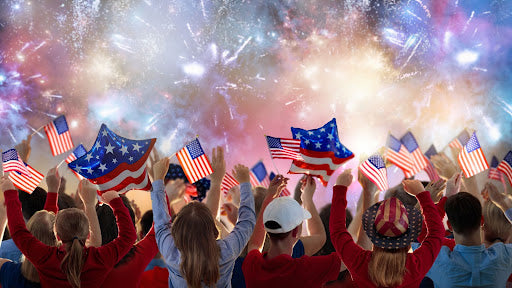 Celebrate July: A Month of Fun and Delicious Food
The month of July brings with it a delightful selection of holidays that are sure to make your summer unforgettable. From the patriotic fervor of Independence Day to the mouthwatering celebrations of National Fried Chicken Day and National Chicken Wing Day, July offers something for everyone. Let's dive into the exciting festivities that await us this month.
National Post Worker Day - July 1st:
July 1st is a day to honor the hardworking individuals who tirelessly deliver our mail, rain or shine. National Post Worker Day recognizes the dedicated postal workers who ensure that our letters and packages reach their destinations. Take a moment to express gratitude and appreciation for their service by leaving a kind note or a small token of thanks in your mailbox.
Independence Day - July 4th:
July kicks off with a bang as the United States celebrates its most cherished national holiday, Independence Day. It's a day of pride, patriotism, and spectacular fireworks that light up the night sky. Communities come together for parades, picnics, and barbecues, creating an atmosphere of unity and celebration. As families gather and friends bond over the shared love for their country, the spirit of liberty and freedom is shared throughout the country.
National Fried Chicken Day - July 6th:
Prepare to satisfy your taste buds on July 6th as we celebrate National Fried Chicken Day. This finger-licking holiday applauds the crispy, golden delight loved by people around the world. Whether you prefer it spicy or mild, paired with waffles or in a sandwich, this day invites you to indulge in the many flavors of fried chicken and savor the culinary wonders it brings.
National Waterpark Day - July 28th:
As the sun shines its brightest, embrace the refreshing spirit of summer on National Waterpark Day. Gather your family and friends and head to the nearest waterpark for a day of thrilling water rides, lazy river floats, and exhilarating slides. Be prepared for laughter, splashes, and unforgettable memories. This holiday offers a fantastic opportunity to beat the summer heat and experience the joy of aquatic adventures.
National Chicken Wing Day - July 29th:
Chicken wing lovers rejoice! July 29th is your day to revel in the delightful deliciousness of National Chicken Wing Day. Whether you like them spicy, tangy, or sweet, chicken wings are a finger-food sensation that brings people together. Celebrate this holiday by visiting your favorite wing joint or try your hand at cooking up your delectable wing creations. From classic Buffalo wings to exotic flavors, let your taste buds take flight and savor every saucy bite.
July is a month of celebration, where we honor our nation, recognize the hard work of post workers, indulge in mouthwatering fried chicken and chicken wings, and embrace the water-filled adventures of water parks. These holidays provide opportunities for unity, appreciation, and enjoyment, making July a time to create lasting memories and cherish the summer season.
---