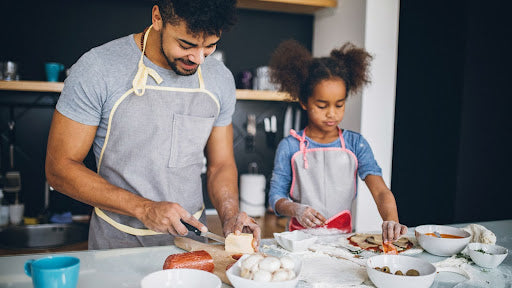 Celebrate Father's Day with a Special Home Dining Experience
Father's Day is a special occasion dedicated to honoring and appreciating the incredible dads in our lives. This year, instead of going out to a crowded restaurant, why not create a memorable dining experience right at home? With a bit of planning and creativity, you can make Father's Day extra special by preparing a delicious meal that shows your love and gratitude. Here are some tips to help you create a fantastic dining experience for your dad right in the comfort of your own home.
1. Plan a Menu:
Start by planning a menu that includes your dad's favorite dishes. Consider his preferences and dietary restrictions when choosing the main course, side dishes, and dessert. If you're unsure, ask for his input to make sure the meal is truly tailored to his taste.
2. Set the Ambiance:
Create a warm and inviting atmosphere in your dining area. Use tablecloths, napkins, and candles to make the setting feel more elegant. Consider playing soft music in the background to set the mood. You could even decorate the table with handwritten notes or drawings expressing your love and appreciation.
3. Involve the Whole Family:
Make the day a family affair by involving everyone in the meal preparation. Assign each family member a specific task, such as chopping vegetables, setting the table, or making a special Father's Day card. This will not only make the workload lighter but also create a fun and collaborative experience that your dad will cherish.
4. Cook Together:
Cooking together can be a wonderful bonding experience. Encourage your dad to join you in the kitchen and share the joy of preparing the meal. You can teach each other new recipes or share family cooking traditions. It's not just about the result; it's about the journey of creating something together.
5. Add Personal Touches:
Consider incorporating personal touches throughout the meal. For example, you can create a custom menu with your dad's name on it, or serve his favorite childhood dish as a surprise. These thoughtful gestures will show your dad how much you care and make the dining experience unique.
This Father's Day, skip the crowded restaurants and create a memorable dining experience at home. With careful planning, a delicious menu, and a touch of creativity, you can show your dad just how special he is to you. Remember, thought and effort count, so focus on spending quality time together and creating lasting memories. Happy Father's Day!
Explore some more holidays in June:
June 8th: Best Friends Day
June 16th: Take a Road Trip Day
June 22: World Rainforest Day
June 27: National Onion Day
---