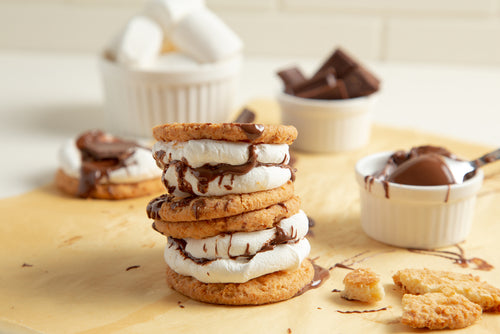 Summer Golden S'mores
Summer Golden S'mores:
Prep Time: 15minutes
Cook Time: 15 minutes
Total Time: 30 minutes
Ingredients:
1 cups Salted Butter at Room Temp
2 cups Brown Sugar
2 Large Eggs
1/2 cup cold coffee
3 1/2 cups All Purpose Flour
1 tsp. Baking Soda
1 tsp. ground Cinnamon 
1/2 cup golden raisins
1/2 cup sliced Almonds
Filling:
Marshmallows
Chocolate of Choice
Instructions: Preheat oven to 350°
1. In mixer cream together butter and sugar
2. Add eggs, one at a time
3. Slowly add flour, baking soda, cold coffee
4. Add cinnamon and raisins, almonds – mix until combined.
5. Refrigerate dough for 30 minutes
6. Roll out dough on lightly floured surface, ¼" thick
7. Cut in to shapes with cookie cutters- circles
8. Bake at 350o for 10 to 15 minutes (slightly golden on edges)
9. Let cookies cool completely before stacking with marshmallow and Chocolate
10. Toast Marshmallow

ALWAYS-Summer FUN☺
EAT! LOVE! BE HAPPY!
---